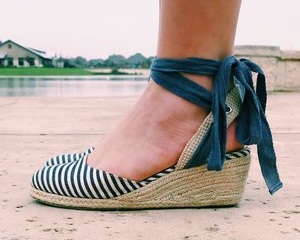 30 Pairs of Espadrilles Under $50
To start your week off right, I'm giving you a little extra content today. It's sort of a cross between a 5 on Fridays post and a round up of my favorite shoes right now. I've scoured the interwebs to bring you the best pairs of espadrilles under $50! From florals to stripes, wedges and flats, sandals and slip ons below you will find 30 different pairs for your shopping delight! And they can all be ordered online if you prefer! Anyhow, you'll also find below five ways to wear espadrilles. They are such a fun addition for Spring and Summer seasons and they are a practical shoe. Hope you enjoy and I'd love to hear which ones are your favorites?
30 Pairs of Espadrilles Under $50
Florals
Floral printed shoes are one of my favorite prints for Spring and Summer seasons. I really love how they make a neutral outfit pop and add a touch of whimsy. It's also fun to mix floral printed dresses in the same hues. I recently wore the pair featured above with white jeans, a white tank and lime cardigan. You could also pair with a white cotton or linen dress and a pair of statement earrings.
Bright Colors
Bright pink is pulled out every single year for Summer. I think during the hotter months I gravitate to crisp whites, cotton and linens and anything in the hot hues of pinks, corals, oranges, reds and yellows. If hot pink isn't your thing, then choose a bold color you have in your wardrobe. Maybe a deep green or cobalt blue? Or if you prefer a pastel try lavender or blush. Use this season shoe to dress up floral sundresses (perfect for outdoor wedding guest attire), a chambray jumpsuit or otherwise neutral white outfit.
Basic Black
Although I rarely wear tons of black, I do like to have a few pairs of neutral shoes like black, white, tan, camel and navy. Black is a great choice for a Summer shoe since it hides sand, dirt and stains. Opt for open or closed toed espadrilles flat or with heels for a walking shoe for travels. You can also wear these with a maxi dress for a night out if you are going to a resort. Layer a jacket or blazer over a black and white print dress for a day at the office.
Bow Embellished
A pair of bow embelleshed sandals is such a cute option to add a feminine touch to your wardrobe. I love the way this pair works with this chambray jumpsuit. You can also pair these with a shirt dress, white capri pants, wide legged sailor pants or a dress. Wearing a bow embellished shoe works so perfectly with a simple garment so let your shoes do the talking and dress in neutrals when wearing these babies!
Nautical Stripes
This pair is just so much fun! Stripes are a easy way to incorporate a patterned shoe into your Summer mix. Perfect for a boat ride, walk along the pier or dock, dinner at sunset and just enjoying a Summer picnic. Wedges are ideal for an outdoor heel because they do not sink into the ground but provide a solid platform for walking. The key a good heel is to make sure it fits properly. Your foot should not wiggle around when you walk but become in one with the shoe. Give a little room in the toes so as your feet swell towards the end of the day you don't rub blisters.
Which shoe and look featured today is your favorite? Leave a comment!
If you like this post, then check these out: